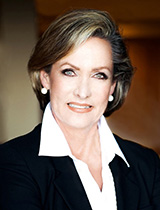 Born and raised in Santa Barbara, Patricia has a deep-rooted understanding of the town's community and all it has to offer. She obtained her real estate license in 1982 followed by her brokerage license in 1990. Patricia felt helping others find their dream home in this town she often refers to as "paradise" was her way of giving back to the community. "It's truly a blessing to live and work in such a wonderful place," she says. "There are so many special neighborhoods here, I find it thrilling to help my clients either market their property or help them find just the right home."
Patricia's energy and enthusiasm, coupled with her unyielding determination, diligence and an astute attention to details, has elevated her to the highest echelon within the industry. Her vastly educated experience is combined with a dynamic marketing department, enabling her to deliver some of the most advanced and effective marketing in the industry. Such assets have afforded her an ever-growing list of loyal clientele, most of whom now call her a good friend.
While Patricia services the community through her real estate efforts, her commitment runs deeper than real estate. Her lifelong involvement in local charities, organizations and businesses has enabled her to give back even more. From 1977 to 1993 and again appointed in 2003, she serves as a local airport commissioner. As such she oversees the tremendous changes constantly being made to better serve the community and its' needs. Holding a warm place in the hearts of many Santa Barbarans is the local zoo. Having served on the Zoofari Ball Committee for over 10 years and co-chairing the Development Committee, in 2009 Patricia was elected to serve as President of the Board of Directors at the zoo. She finds great joy in helping to constantly make the zoo a wonderful place for local families and those visiting Santa Barbara. "My extensive involvement and commitment to the community is not only a source of delight in my life, but I've also found it is very beneficial to my clients. I've built strong relationships within the community that are not only very valuable when marketing a property for sale, but they also enable me to better and more quickly acquaint out-of-town clients with the community."
"In an almost magical way, Santa Barbara maintains a small-town feel while still offering all the features of a big city: from the museums and symphonies to the vast shopping and exquisite restaurants, not to mention all the activities its' glorious setting offers." Feeling lucky to live in, and participate in this wonderful community, when she isn't putting a deal together or volunteering, Patricia enjoys spending time with her husband, Alan, traveling, preparing gourmet meals, taking long walks on the beach , spending quality time with their children, grandchildren and friends and enjoying all that the Santa Barbara lifestyle has to offer.
---

Being a real estate agent is the art of helping others.
Newspress article published April 29, 2023 https://newspress.com/being-a-real-estate-agent-is-the-art-of-helping-others/
With the good fortune of having been born and raised in Santa Barbara, the idea to become a real estate agent in this wonderful community seemed very appealing.
2023 marks my 40th year in the real estate industry, which means I have worked in almost every type of market, across numerous cycles and with countless people: clients, fellow agents, lenders, vendors and more. It is what I love to do.
The real estate profession is so special in that it requires one to be helpful on so many levels and to so many people.
By helpful, I mean the big things and the little things.
At a high level that could include: making it easy for clients, saving them time, connecting the dots, etc. To me, the best agents are those who have the natural instinct and desire to get up every day, motivated to help individuals and families (often multiple generations of them), provide creative solutions, and above all else, make a positive difference in their lives.
In order to achieve a client's optimal outcome, my first priority is building trust. Once trust has been established, being an adviser is extremely rewarding. It is imperative we (as agents) provide the context, facts and insights on current market conditions, whatever they may be.
Conditions are constantly evolving, especially today. We cannot control the market, but we must know the market. It is paramount to stay current on all things that affect local real estate, which means intimately knowing our inventory, what is available (on or off-market), what is selling and for how much, and what's coming soon, so we can be relied upon and trusted to provide informed opinions on property values or impactful home improvements.
These are big decisions that we must always treat with thoughtfulness, sincerity and a fiduciary responsibility.
Furthermore, maintaining good relationships and respect within the real estate community at large benefits our clients whether they are buyers or sellers. Being able to provide recommendations for vetted vendors, whether they're inspectors, lenders, roofers, painters, stagers or a myriad of other connections.
The trust that a client has for advice on improvements, preparations, timing and coordination is invaluable.
The community of Santa Barbara is very special and diverse. I am proud of the philanthropic participation so many of our residents take in being active in so many of the activities, nonprofits, schools and businesses that make us unique and exceptional.
For me, it has been rewarding to have been involved in the Santa Barbara Airport, the Sunrise Rotary Club, Childhelp USA, the Santa Barbara Zoo as well as volunteering or supporting many other organizations. It fills me with joy to give back to this oasis of a community that I've been a part of my entire life.
Being naturally helpful, building trust, providing excellent service to longstanding or new clients and loving what I do keeps me motivated each and every day, a trait I believe is paramount for any serious professional looking for a sustained career. The joy in helping my clients achieve their goals, whether that means finding their dream home, downsizing, or moving to be closer to family, is beyond satisfying. 
Patricia Griffin is a Broker Associate with Village Properties and has been practicing real estate in Montecito and Santa Barbara for more than 40 years. For more information on Ms. Griffin, visitwww.patriciagriffin.com or contact her at (805) 705-5133.